About the Follow A Dream Organization
Established in 1999, Follow A Dream is a non-profit 501(C)3 organization with the mission of demonstrating the Power of Positive Thinking, Self-Determination, and Teamwork.
The organization's message is uniquely delivered through NHRA drag racing as its medium.
As racing's only totally blind, race crew chief, Follow A Dream Founder Jay Blake draws upon his personal experience of overcoming adversity and achieving his dream of auto racing and shares his inspiration with others. He is also available for motivational speaking engagements at various types of events.
---
Jay's Remarkable Story + Winning at the National Level
While working as the head mechanic of a transportation company in May of 1997, Follow A Dream's owner and crew chief Jay Blake was involved in an industrial tire explosion accident that caused him to lose complete vision, smell, and taste.
At the age of 31, Jay was faced with the monumental challenge of relearning how to live as a completely blind person. Incredibly, despite losing his eyesight, Jay did not lose his positive attitude on life nor his desire to pursue his dreams.
Jay had always wanted to form his own professional auto racing team, and in spite of his serious setback, he continued to focus on his goals. Refusing to give up on life, Jay aggressively participated in rehabilitation and with renewed determination Jay began to follow his dream.
Jay's 5 Tools For Life Success
He soon learned that even without sight, he was still able to do what he loved most-work on racing engines. Through years of incredible determination and perseverance, he was able to realize his dream and founded Follow A Dream Racing.
Turning his dream into a reality, Jay combined his participation in drag racing with his desire to spread his true-life success by inspiring others to accomplish their goals through the Power of Positive Thinking, Self-Determination, and Teamwork.
Since then, Jay's team has worked its way up the rankings to become one of the top Funny Car teams in the world. Jay also tours the country giving his "5 Tools for Life Success" motivational presentations at schools, corporate events, military bases, as well as promotional and charitable events.
---
Jay Blake: Crew Chief
Jay Blake is the founder and president of Follow A Dream, and the only totally blind crew chief in the worldwide sport of auto racing. He has more than 15 years of experience as a professional auto mechanic and more than 25 years in drag racing.
Jay is responsible for the organization's management, operations, and community outreach programs, as well as performing mechanical work on the racecar.
Jay leads his team of racing professionals in NHRA Top Alcohol Funny Car competition, where they have won races and championships on a regional and national level.
---
Jim C. Blake: Vice President & Treasurer
Jim Blake is currently a Regional Manager for Eastern Propane and Oil, and is a Board Member of Massachusetts Energy Marketers Association Of Massachusetts (MEMA), Chairman of Executive Board for the Propane Gas Association of New England (PGANE), Massachusetts Legislative Chairman for PGANE, Member of the Emergency Response Committee for PGANE, Past President of the NorthShore Fuel Oil Dealers Association, Secretary of the NMPGIA (Northeastern Massachusetts Plumbing & Gas Inspectors Association), and President of the Oriental's Hot Rod Club established in 1957.
Jim has 45 years of racing experience that include NHRA and IHRA wins and including multiple top ten finishes in the New England Points Series. In 1987, Jim debuted what would become the World's Quickest Clean Air Dragster powered by propane. In 1993, Jim was awarded "The Sportsman of the Year Award", by his fellow racers. In 2022, Jim converted his 1932 Ford Roadster to propane. Jim continues to compete in events along with his son and daughter, who also compete on a local, regional, and National levels. He is an advisor to his brother Jay with managing Follow A Dream.
---
Phil Burkart – Driver
Born and raised in Utica, New York, Phil Burkart began his drag racing career at the age of 14, starting by bracket racing a rear-engine dragster. He transitioned to racing a 23T Altered in Super Comp and then stepped up to driving a Top Alcohol Funny Car. Phil spent the next several years racing throughout the East Coast in NHRA regional and national events as well as a number of match races. Phil began racing in the Nitro Funny Car Class in 1998 and spent the next 10 seasons earning four national event titles and numerous round wins.
In addition to racing, Phil owns and operates Burkart Automotive Engine Machine Shop and Performance Center in Yorkville, N.Y. He lives in rural Yorkville with fiancé Leeann and their two daughters, Santina and Samantha.
---
Jamie Blake – Super Comp Driver
Jamie Blake is the S/C driver for Follow A Dream with 20 years of experience drag racing. Jamie started racing Junior Dragsters at 10 years old and won a championship at age 16. He moved from juniors into S/C shortly after at the age of 17 and has had multiple top 10 finishes in the point series.
Jamie will drive anything! He's been known to run the quarter mile in bantam altereds, door cars, funny cars and anything else he can get behind the wheel of. When he's not racing he's spends his time helping his Dad with his blown hemi powered bantam altered or working in the garage.
Jamie attended and graduated from University of Northwestern Ohio with a degree in diesel technology in 2012. He currently works for Eastern Propane and Oil as a diesel mechanic."
---
Anthony Terenzio: Tuner
Tuner Anthony Terenzio has over 50 years drag racing experience. He has been racing since he was 13 years old when his older brothers Victor and Gene took him to the racetrack. Anthony loves everything about drag racing, the travel, the people, the competition.
He lives in Connecticut with his wife Renee and his son Anthony Junior, where he has owned a trash and recycling company for over 40 years. When he is not at the track, Anthony enjoys riding motorcycles, playing golf, and traveling throughout North America and Europe.
Anthony Terenzio – Follow A Dream Tuner Anthony Terenzio – Follow A Dream Tuner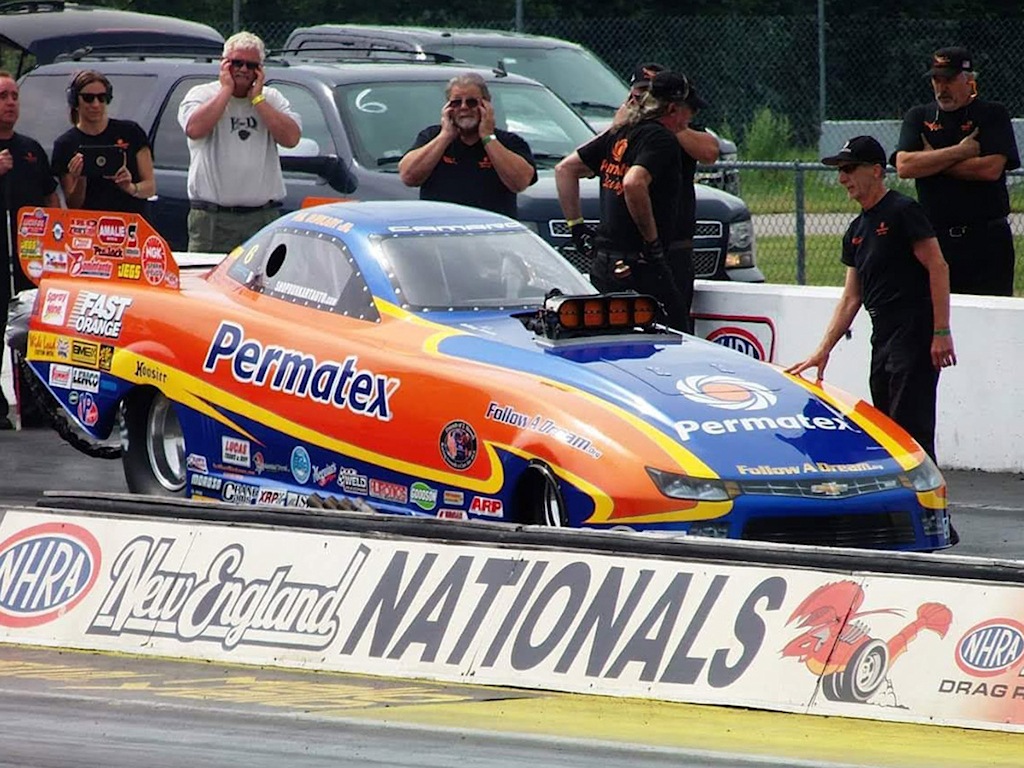 ---
Scott "Ozzy" Osborn: Lead Motor Technician
Scott is owner and operator of Wide Load Custom Metal, an automotive fabrication shop specializing in extensive American car and motorcycle metal work and skilled in servicing all aspects of your collection. Scott graduated with a degree in welding engineering from Wentworth Institute of Technology in Boston, Massachusetts, and joined the Follow A Dream Team in 2003.
Scott Osbourn – Follow A Dream Lower End Technician
---
Anthony Mondi: Fluid Technician/Lower End Technician
Anthony Mondi lives in Morgantown, PA with his wife Kristin, and their daughter Olivia. He is an ASE Master Certified Technician, and former Automotive Instructor. He is a Technical Trainer and Support Specialist for Permatex. Anthony loves the adrenaline rush in racing, he enjoys the camaraderie of the team, and of course, winning. In his spare time, he enjoys being with his family and friends
Anthony Mondi – Fluid Technician/Lower End Technician
Joe Driscoll: Clutch Mechanic
Joe Driscoll is new to the team in 2018 and came on board as a clutch mechanic. His interest in cars and racing started early in his youth and led to him driving a C/SM for a few years in the late '70s.
Recently retired from a corporate career in the automotive industry, he is excited to be back at the drag strip working with the Follow a Dream team. In his spare time he also enjoys fishing, working on his cars and home improvement projects, as well as spending time with his daughters and 3 young grandchildren.
Joe Driscoll – Clutch Mechanic
---
Rachel McMahon: Office Management, Marketing, & Development
Rachel has worked for Follow A Dream since 2017. She is a life-long resident of Cape Cod. She has 10+ years non-profit administration experience.
Rachel has always loved racing and brings tons of enthusiasm to the team. When she isn't at the shop or the track, she enjoys spending time with her boyfriend, her son, and her two dogs.
---
Rich Bozelli – Tuning Consultant
Rich Bozzelli is from Linwood, New Jersey where he is the owner of Mainland Glass, a successful glass and metal company. Rich has been racing for over 40 years. He loves racing, the competition, the people, but especially tuning the racecar.
In Rich's spare time he enjoys building street rods, going to car shows, going out to dinner with his wife, and spending time with his family and friends.
---
Lukas VanGelder – Lead Clutch and Transmission Technician
Lukas VanGelder graduated from Mashpee high school in 2018. He Joined the Follow A Dream team in 2021 as a Clutch Mechanic. Lukas loves everything about racing. He works in his father's Transmission shop on Cape Cod. When he isn't working or at the track, he enjoys spending time with family and friends.
Tom Wanders – Chef and Team Support
Tom Wanders lives in Midlothian, Virginia. He is originally from Millis, Massachusetts. He graduated from Framingham State University in Framingham Ma. He is the Owner-Operator of his own landscaping company.
In his spare time he enjoys spending time with his wife and two children, Maddie and Cole and traveling up and down the east coast camping and visiting friends and family.
---